November 7, 2012 by Nina Gryphon

Chinese Man Tending Cattle
Thomas Hill
It appears that at least one major player on the global scene has not learned the lesson of Facebook's bungled IPO:
"DO NOT PLAN YOUR MAJOR EVENT AROUND AN ECLIPSE."
It appears that in planning the once-a-decade transfer of power to a new group of politicians, China has done exactly that. Originally, the plan was to transfer in October, presumably around the anniversary of the founding of the People's Republic (Oct. 1, 1949). It seems that the upper-echelon negotiations have dragged on longer than expected. There is a solar total eclipse on November 13, 2012, and for reasons explained below, we will see this particular eclipse is not very favorable for China.
As we saw with Facebook's IPO on the day of an eclipse, big changes or launches made around an eclipse tend to require revision later, and often have the project end as a massive flop. I first read about this phenomenon in Bill Meridian's book, the Predictive Power of Eclipse Paths, and have been watching for manifestations ever since. Meridian discusses his own experience with taking a new job shortly before an eclipse. The new job promptly fizzled out, and he had to find new work soon after.
The November 13, 2012 solar eclipse is a rather unpleasant piece of work, especially when we overlay the horoscope for the eclipse on the horoscope of China.
First, let's look at just the eclipse horoscope, set for Beijing, China.  The eclipse occurs at 21 Scorpio, an inauspicious part of the sky. This is where the star Zubeneschemali, in the North Scale of the Balance constellation resides. However, historically, the Scales used to be known as the Claws of the Scorpion. The Scorpion is portrayed in a Babylonian boundary stone as reaching for a cup; perhaps the Cup of Life, or of victory. The Scorpion, of course, is the animal that slew the mighty Orion, so the sense is that the Scorpion is a killjoy. Those hoping to win the prize may be disappointed as the Scorpion taketh away.
The eclipse also has Saturn on the Ascendant, suggesting trouble and distress. Saturn falls on the right shoulder and staff of Boötes, the celestial herdsman or ox-driver. This suggests trouble for the "shepherds" of the country; if we had a benefic planet (Venus or Jupiter) on this star, the picture would be rather brighter, and would promise improvement to the country. The presence of Saturn is somewhat more problematic. Also, transiting Saturn squares China's Moon at 0 Aquarius – this change will not be great for the population as a whole.
The November 13, 2012 Solar Eclipse in China
This eclipse is particularly significant for China for two reasons. One, it falls in the important first house in Beijing, so will have an effect on the Chinese people. The first house rules the people and the nation as a whole, so eclipses placed in this house will have an evident impact. Two, it contacts the horoscope of China in some major ways.
We use the horoscope for the start of the People's Republic of China as October 1, 1949, 10:00 am, Beijing, China. The time is from the memoir The Private Life of Chairman Mao, written by his doctor, Li Zhisui, who said that Mao and his comrades first took the podium in Beijing at 10:00 am to announce their glorious victory over Nationalist forces. (The book was brought to my attention by a recent article in The Mountain Astrologer magazine.)
The 1949 horoscope has 22 Scorpio rising, so the eclipse at 21 Scorpio falls exactly on the Ascendant. This alone would be enough to suggest a disruptive influence interfering with the transfer of power. Eclipses on the Ascendant/Descendant axis of a country or organization suggest transformation at a profound and immediately evident level – certainly, the handing over of the reins would qualify.
However, we can expect conflict at the uppermost echelons of China. Note that the eclipse Midheaven falls on China's Mars (and, if you use the modern planets, Pluto – yes, China has a natal Mars-Pluto conjunction). So, that shows power struggles (Mars/Pluto) among the leadership (Midheaven). However, note the interesting aspects to Mercury, ruler of the Midheaven. The eclipse Venus is conjunct Mercury, and the eclipse Jupiter trines Mercury. So, there will be some very nice monetary benefits for those coming into power. You may have seen the New York Times' expose of Chinese Premier Wen Jiabao's personal wealth of $2.7B, most of which was accumulated since his rise to high position in the 1990s. It's good to be the king!
Some Predictions for China
Based on the above, I would suggest the following:
1.  The power may be handed over, but perhaps not completely, or the arrangement will not prove permanent.
2. There will be conflict (more than the usual machinations) among the upper tiers, and it may even become public.
3. Those coming into power will obtain tremendous financial benefits. Quelle surprise!
July 8, 2012 by Nina Gryphon
When I was learning horary, I wish that someone had explained to me the basics of planetary motion and average speed.   The reason that this is important is that horary is 90% about planetary motion.  Think about that for a moment.  Our world down here is constantly changing; the way that this is symbolized in the sky is by the ever-changing state of the planets.  Knowing where the planets are going and where they have been is key to producing accurate judgments.
Pop quiz: Let's say that I want to know whether I will get that job I interviewed for last week.  Eager to find out whether I get the job, I cast a horary. In our chart, I am represented by the Moon, while the job is represented by Mars.  We want to see a connection between the Moon and Mars to indicate that I get the job.  Our horary shows the Moon at 10 degrees Taurus trine Mars at 8 degrees Virgo.  All other things being equal, do I get the job?
No, I don't.  Why not?  The Moon is separating from Mars, showing the job and I are leaving each other, rather than getting closer.  Now, if you know average planetary speeds, you know that the Moon's speed is many times higher than that of Mars, and the Moon must therefore have overtaken Mars, rather than vice versa.  The Moon moves 12 degrees per day on average, while Mars moves about only about 1/2 of a degree per day.  The Moon has already left Mars behind.
To really be a hit at parties, commit this table to memory:
Average Daily Motions of the Planets, from fastest to slowest***
Moon: 13 deg 10 mins
Mercury: 0 deg 59 mins
Venus: 0 deg 59 mins
Sun: 0 deg 59 mins
Mars: 0 deg 31 mins
Jupiter: 0 deg 05 mins
Saturn: 0 deg 02 mins
***Important caveat: the planets are rarely moving at average speeds, so always check your ephemeris/software.  For example, today, July 7th, 2012, the planets' speeds are as follows:
Moon: 13 deg 14 mins per day, Mercury: 0 deg 33 min; Venus: 0 deg 20 min, Sun: 0 deg 57 min, Mars 0 deg 32 min, Jupiter 0 deg 12 mins, Saturn 0 deg 01 min.
Now, given today's actual planetary speeds, we have Mars at 2 Libra trine Venus at 9 Gemini.  Are the planets applying or separating?  Applying, because Venus is so slow right now, that Mars is (very slowly) approaching Venus.  Still, you should check your ephemeris to find out if Mars ever does catch up.  Venus is gaining speed, so it may be they never form the anticipated trine.
So, why does this matter?  Oh, only because it determines the answer to nearly all of our questions.  Let's say that I interviewed for yet another job yesterday, and cast a horary this morning, July 7th, to see if I get this job.  If I am Mars, and the job is Venus, do I get the job?  Alas, not.  We see the promising Mars-Venus trine.  Looking in the ephemeris, however, we see that Venus rapidly gains speed in the coming days and pulls away from Mars.  Symbolically, this can show a job situation that was promising (seemingly applying Mars-Venus trine), that ends up not working out (Venus eventually pulls away before completing the anticipated aspect).
July 3, 2012 by Nina Gryphon
The Astrology News Service has published an interview with me regarding my methods of politico-astrological analysis, thoughts on the role of astrology in the corporate and legal worlds, as well as a little about my background.  Happy reading!
July 1, 2012 by Nina Gryphon
Lesson 1: Introduction to Horary Astrology
Horary astrology is the technique of answering questions based on the time and date the question was asked, then interpreting the horoscope. It is the most immediately applicable astrological technique, and has the added advantage of not needing one's birth time. For these reasons, horary has been a popular divinatory method for a few thousand years. If, like most people, you are used to interpreting birth horoscopes, this can be deeply disconcerting. Is this some kind of scam? How can you not need the birth data to cast a horoscope? The answer is that we are indeed interpreting a natal horoscope; that of our question. More on this later.
As a simple example, I will share a personal horary: my husband was taking his very last board exam in May, requiring many months of preparation and focused studying. On top of the comprehensive nature of the half-day-long exam, examinees have to answer the questions orally, adding more stress to the experience. The exam is equivalent to the bar exam for lawyers, in that students spend years dreading it, and have created a whole mythology of failures by previous test-takers. My husband is a skilled exam-taker, blessed with a phenomenal memory, but his anxiety worried me. At least it was a pass-fail exam!
I cast a chart, asking: "Will my husband pass his exam this year?"
"Will my husband pass his exam this year?"
Chicago, Illinois, April 9, 2012, 2:04 pm Central Daylight Time
He is represented by Saturn, ruler of Aquarius, which is on the 7th house of spouses. Saturn is the planet of seriousness, worry, and dark thoughts. Certainly a good description of his mood around this time! Saturn is also the planet of retention, so it is good for the memory, provided the planet is functioning well otherwise. Counting from Aquarius, we find that Saturn is placed in his 9th house of higher education and examinations. Dark thoughts about examinations – that fits rather well. Saturn is in Libra, the sign where Saturn is exalted, or extra strong. Further, it is in an air sign – these signs rule the mind and communication. Saturn's strength is one indication that his subject matter knowledge is very good.
Now, the interesting thing is that Saturn is retrograde, which means that from our perspective here on earth, Saturn appears to be moving backwards in the sky. Since we are wondering whether my husband will be able to recall the vast amounts of material he memorized, Saturn retrograde is a good sign that says "yes, he will be able to remember the information."
That is indeed what happened. My husband took his exam and passed. His sense was that the questions were not as hard as he expected, and he breezed through most of them.
You can see that horary can be rather simple. Not all questions are this easy, but most are, and can be successfully read by beginners using basic astrological building blocks as shown above.
Just as horary predicts the future, it can also show the present or the past. "Does my girlfriend Georgina still love me?" "Is Bob my child's father?" (I get both questions with some regularity.)
Now, we could have answered this question from my husband's birth horoscope, because it is a fairly momentous event in his life. The problem is that we cannot use the birth chart for everything. If I want to know where I left my wallet, good luck teasing it out from the natal horoscope! It's just not that precise an instrument.
The Birth of a Question
How can horary work? After doing horary for a decade now, I came to the conclusion that we live in a universe where everything is significant. Thus, the birth chart of anything at all, whether a baby, a puppy, a country, or a question, will tell us something about the influences operating at the time of birth, and the future that is embedded in the moment of birth. To me, though, the most persuasive evidence on horary is the fact that it works. It's hard to fudge yes or no questions such as the one above. Further, the descriptors of a situation, such as the appropriate symbolism of Saturn in describing my husband's mental state while preparing for his exam, are very convincing when we have knowledge of the situation.
You can go through the old horary questions on this blog to see for yourself how horary works, and the fact that it can be used to answer just about any question. About the only question I do not know how to answer is "Which numbers will be drawn in the lottery tomorrow?" However, I can at least tell you whether you will win the lottery***, which is probably more useful.
***Probably not, alas.
Next week, we will go through some basics to help you get started looking at charts right away.
June 23, 2012 by Nina Gryphon
After a very eventful Sun in Gemini period, here is the latest newsletter, published at Midsummer.
Table of Contents:
1. The Meaning of the Cancer Ingress
2. Mars-Saturn Conjunction in Libra, August 2012
3. What We Are Reading: Secrets of the Ancient Skies by Diana Rosenberg
4. Facebook Inc: The IPO Horoscope (involving monsters of the deep)
5. Cazimi: Are We Taking Liberties?
6. Babies, Babies Everywhere: Mia Farrow
If you like it, you can sign up in the box on your right.
June 6, 2012 by Nina Gryphon
Yesterday, Venus moved across the face of the Sun, a conjunction not only in longitude, but also in declination. Venus was visible as a black dot on the Solar disc, moving diagonally across the Sun. The conjunction occurred with Venus in retrograde, and was exact at 15 Gemini.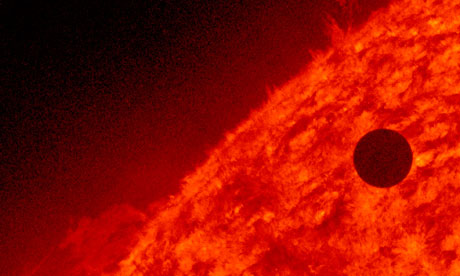 Venus transiting the Sun – image courtesy of NASA
Last night, I had the opportunity to visit the Adler Planetarium here in Chicago, which held an observation event. The transit began at 5:04 pm CDT, and was visible until about 7:45 pm, when the Sun sank behind the skyline. There was also a live NASA feed from Mauna Kea, with commentary by astronomers and physicists. I got a chance to look through the high-tech observatory telescope, which was so clear that it showed the solar flares along with Venus herself, just as she made the mysterious black drop effect. This is the effect occurring when Venus separates from the corona of the Sun, and she looks more like a little drop than a clearly-defined sphere. The black drop effect has not yet been explained.
The viewing was a spectacular and special event, not to be repeated for another century. Even if you missed it, the good news is that Mercury transits the Sun about once a decade. Mercury is considerably smaller, however, so the visual is a little less dramatic, but still rare and beautiful.
I think of this transit as Venus being super-cazimi. Traditional sources say that planets are exceptionally strong when within 16′ of longitude of the Sun, as they are "in the heart of the Sun." This condition is called "cazimi," from the Arabic kasmimi. They are in the heart of the King, as it were, and so suitably powerful. Yet – and this will be a separate article on traditional astrological methods – a planet such as Venus is visually only in the heart of the Sun when she makes this super-rare transit. Could it be that cazimi only refers to these planetary transits across the Sun's face? My few horary charts with cazimi planets indicate this may be the case.  Stay tuned.
May 31, 2012 by Nina Gryphon
NOTE: Gryphon Astrology will be down for maintenance for a few hours sometime in the next few days – if it is down, just come back a few hours later.
I just returned from UAC in New Orleans yesterday. It was a great conference, with many eminent speakers and fascinating presentations. The conference culminated with the Presidential Panel, where five astrologers, each using different techniques, made their prediction for the winner of the 2012 elections. The participants, in alphabetical order, were Chris Brennan (Hellenistic), Gary Christian (Uranian), Edith Hathaway (Vedic), me (Traditional), and Claude Weiss (using a mix of mundane techniques). As far as I know, none of us discussed the outcome with each other prior to the panel. Yet everyone concurred that Barack Obama would be re-elected in 2012. I wrote about the 2012 elections here earlier this year; my talk was a condensed version of the article.
The panel was covered by major media outlets, who posted a story on Reuters and Associated Press covering the panel's conclusions and citing Chris and me. You can read the story as printed in the Chicago Tribune here. The story quickly propagated through the world media, and was featured on Huffington Post, USA Today, Sina.com, NY Daily News, and dozens of other news sites and publications. When I returned to Chicago, I had an interview request from CNN/HLN and a local radio station; both interviews aired the same day.
As life returns to normal, we have lots of plans afoot, and I am sure you will be hearing more from me on my favorite topic, mundane and financial astrology.
May 21, 2012 by Nina Gryphon
This morning, Gryphon Astrology Newsletter subscribers received the latest installment of the Gryphon Astrology Newsletter. The number of readers has doubled over the last two months; thanks very much for reading!
Below is the list of this month's articles. You can read the whole newsletter here, and can subscribe to future issues using the link on the right side of this page.
1. Stocks in the Summer
2. What Happens to the Euro? Does Greece Leave?
3. Profile of the Month – Tommasso Campanella
4. We Are Reading: Symbol and Magic in Egyptian Art
5. Transit of Venus on June 5/6, 2012
May 13, 2012 by Nina Gryphon
The annular solar eclipse of May 20, 2012 at 0 Gemini is one of two solar eclipses of 2012 (the other occurs in November, as eclipses run in pairs six months apart). An annular solar eclipse is named after the Latin word "annulus" or "ring", and this type of eclipse occurs when the Moon is on the far side of its orbit and appears too small to cover the entire solar disk. As a result, at totality, a narrow ring of solar light is visible around the Moon. Approximately one-third of all eclipses are annular. From first to last penumbral contact, the eclipse will last 3 hours and 33 minutes. The totality of the eclipse will last 5 minutes and 46 seconds.
The eclipse will be visible in Southeast Asia, southern Japan, the Pacific Ocean, and western North America (view a Google Map of the eclipse path here). The traditional perspective on eclipses is that they influence primarily the places where they are visible; from an astrological perspective, eclipses are especially active where they are angular in the horoscope. The duration of the eclipse's effects in years is equal to the duration of the eclipse, or 3 1/2 years. Thus, we will see the effects of the eclipse through the end of 2015.
The eclipse occurs closely conjunct to the 1st magnitude fixed star Mirfak (alpha Perseus, meaning "the Elbow" in Arabic), which is traditionally seen as the side of Perseus, the famed killer of the Medusa and the sea monster Cetus. The star can be said to give bravery and strength, though it is placed in a warlike constellation ruled by Jupiter and Saturn, according to Ptolemy. Jupiter is for justice, but Saturn is for death. In general, this eclipse may bring earthquakes or big storms – the eclipse occurs in Gemini, an air sign, and its ruler, Mercury, is in an earth sign with Jupiter. Certainly Mercury and Jupiter in Taurus can indicate disturbances and movement in the earth.
Let us look at possible effects of this eclipse on the various localities where it will be visible.
China (Southeastern), Macau, and Hong Kong: China has been involved in an altercation with the Philippine Navy in the South China sea over the last few weeks. Chinese vessels stopped the Philippine government from arresting Chinese fishermen accused of illegally fishing in the resource-rich Scarborough Shoal area. The Chinese online media has been talking up preparations for war, which China's Defense Ministry has denied. The thought is that China is asserting itself to look in control during its political transition this year. The presence of the eclipse indicates further warlike behavior, as the ruler of the eclipse is Mercury with Jupiter, but as Mars is not prominent in the eclipse chart, we do not believe a war with the Philippines will actually start. This is supported by a lack of contacts between the eclipse and China's 1949 foundation horoscopes.
The Philippines, however, have the eclipse right on the Midheaven (3 Gemini), and the Eclipse Mars (10 Virgo) falls on the natal Philippine Mars-Moon conjunction in the 1st house. The conflict will continue in the Philippines' backyard, and while it will not make a ripple in the Chinese horoscope, the tensions – and potential conflict – in the Philippines will likely be high.
Japan: We expect changes in Japan following this eclipse. The country has shut off all of its nuclear reactors in the wake of the Fukushima nuclear disaster, and has recently announced the nationalization of Tepco, the private company that operated the Fukushima Daiichi site. The entire management and board will be replaced as Japan attempts to clean up and contain radiation. The warlike posture of Perseus will show itself as people will demand accountability for this unnecessary disaster.
United States: The eclipse will pass through Northern California, within a spitting distance of Sacramento, the state's capital. The California governor, Jerry Brown, had announced that the California budget shortfall had grown to $16B, in contrast to the estimated $9B, and that in addition to more program cuts, an increase in taxes will be needed. This is a state that already has the highest sales tax in the nation, and the highest top income tax rate. The economic difficulties that currently envelop California will continue with an added hit of drama. There may be increased earthquake activity following the eclipse. The eclipse will be visible from Las Vegas, Nevada and will pass through New Mexico – Albuquerque, as well as Los Alamos.
The eclipse horoscope set for Sacramento, California, is below:
May 1, 2012 by Nina Gryphon
Note: A reader asked me recently whether a horary question about someone I do not personally know (i.e. Madeleine McCann) is valid.  I am not sure where the concept of some questions being invalid came from, as it does not appear in traditional literature; I assume it arose at some point in the 20th century.  Below are some thoughts on this issue. 
Let's unpack what you mean by "valid."  Does an invalid question mean that the answer will sometimes or always be incorrect if people ask a certain type of question?  I'll assume that is what you meant.
Now, let's take the logic a little further; let's assume that hundreds of horary astrologers not connected to the McCann situation have asked "Is Madeleine still alive?"  For the sake of argument, let's posit she is still alive.  Do we really think that all those charts came up with "no" as an answer?   That seems unlikely, so we can assume that questions asked by querents unconnected with the matter will at least sometimes lead to correct answers.  But when?  Does that mean astrology worked at some of those times but not at other times?  That does not seem right.
Does astrology stop working when we ask certain types of questions?  If "as above so below" is true – and Hermes Trismegistus assures us that "true without falsehood, certain, most certain" – then the stars should always reflect reality here on earth without exception.   I have gotten accurate results to questions about situations in the news that interest me, so these questions are clearly valid at least some of the time.
This raises a second question: Even if there really are valid/invalid questions, how far removed from a situation do we have to be for a question to be valid, and who decides where the line is drawn?   Immediate family to the McCanns?  Neighbors who sometimes saw Madeleine?  Friends?  How about acquaintances of the family?  Family of friends of the McCanns?  Any line that we draw between valid and invalid questions must be arbitrary, and not supported by traditional literature to my knowledge.
Why is it insufficient that this is a topic that affects me emotionally?  Presumably, Madeleine's parents, would be mainly motivated to ask out of their emotional involvement with their daughter.  Is their question invalid?  Or are we letting post-Enlightenment materialism creep in by assuming that there must be a physical connection between us to have a valid question?  It's well proven scientifically that emotions affect our bodies, so whether little Madeleine lives or dies does, in fact, impact me more immediately than we think.  The only requirement is that we care at least a tiny bit about what happened to this little girl.
I have recently become very conscious of the fact – and this is not about you at all – is that in all areas of life, there are people who set themselves up as authorities who are eager to tell us what is and is not possible and we are very eager to take their word for it.  The Buddha said: "One is one's own refuge, who else could be the refuge?"  Also, "be a light unto yourselves."  We cannot take statements of possibility for granted, but rather, let us do the actual hard work to test assumptions.  What is our reward?  The truth, the only thing worth striving for.